LANGUAGE COURSE
Our  Intensive Language Course is developed to achieve the necessary level of language for you to start work in Norway as fast as possible. You will participate in a well-tested language program that will also introduce you to many cultural and social aspects of Norway. Whether you are a complete beginner or have knowledge of Norwegian before, this course will achieve your language goals in the time frame allocated.
With the Intensive Course, the emphasis is placed on learning, thus leaving less free time for extracurricular activities. Daily lessons run from 08:45 to 16.30 and there are often extra tasks given to make effective progress in the short time the course is run.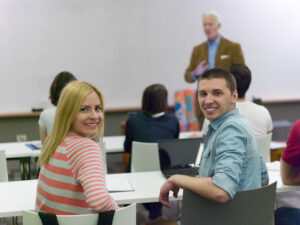 Our intensive course at a glance
Intro week – This is a 1-week stationary course.
Online course – The online course runs for 8 – 12 weeks with 8 – 12 lessons/week (A1/A2 – level)
Stationary course –  The stationary course runs for 8 – 14 weeks and is completed when passing a B1 language test.
Online Course structure
The course structure may vary depending on the individual teachers and students. However, the goals are the same for each level. The online course is divided into 3 levels and the students are tested after each level and must pass to continue to the next level (A1-A2). Courses online are arranged in small groups of 2-5 students giving the teachers time to work with each individual student and assist them in every way possible. The course will take place on a specially made educational platform with access to digital books and much more.
The stationary Course structure
The stationary course will take place after completion of the online course and is set to last 8 -14 weeks. In most cases, it will be completed after 12 weeks. All students are required to take a B1 language test and pass it before departing for Norway.
Included in the stationary course is your stay with us in a twin room shared with a second student from your course. Meals are included in the program and you will get breakfast, dinner, and an evening meal. You will also be given all the learning materials that are needed to complete the course.